The Zendesk widget "Answer Bot" available within the Fuel Cycle community app offers Help Center suggestions based on the URL the user is currently on.
The bot offers three article suggestions. Users can ask another question or submit keywords and the bot then serves up other article suggestions. Or they can Get In Touch and submit form requests.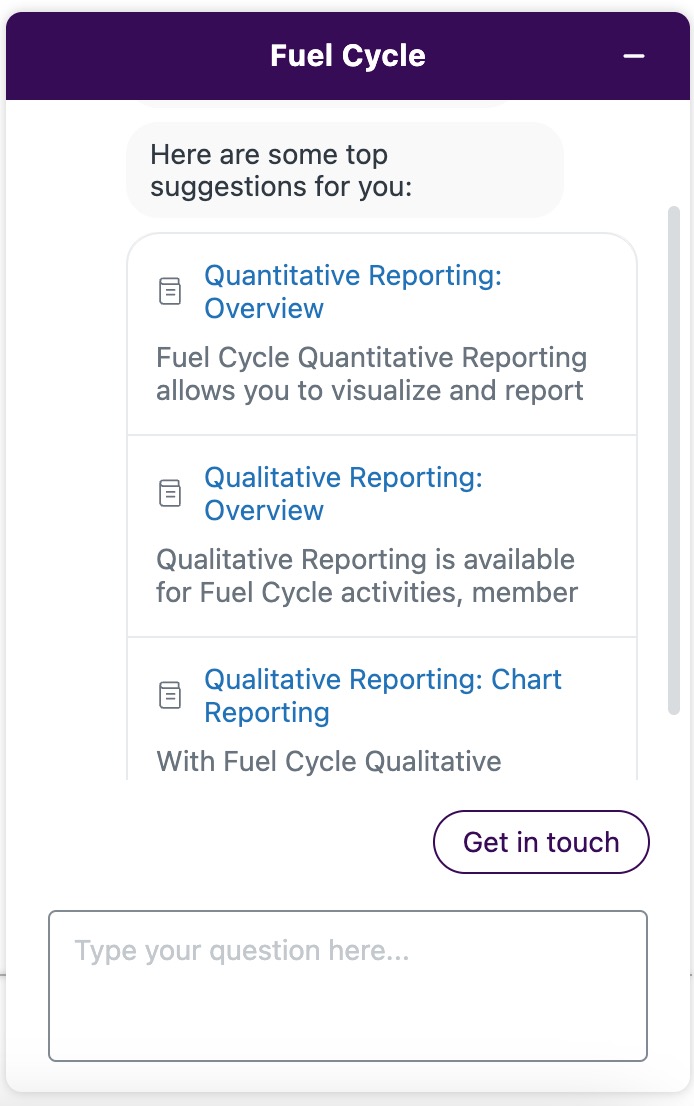 If users click on an article suggestion, Answer Bot serves up the article in the bot window. There is also an arrow icon top right to click that opens the Help Center article in a new browser window.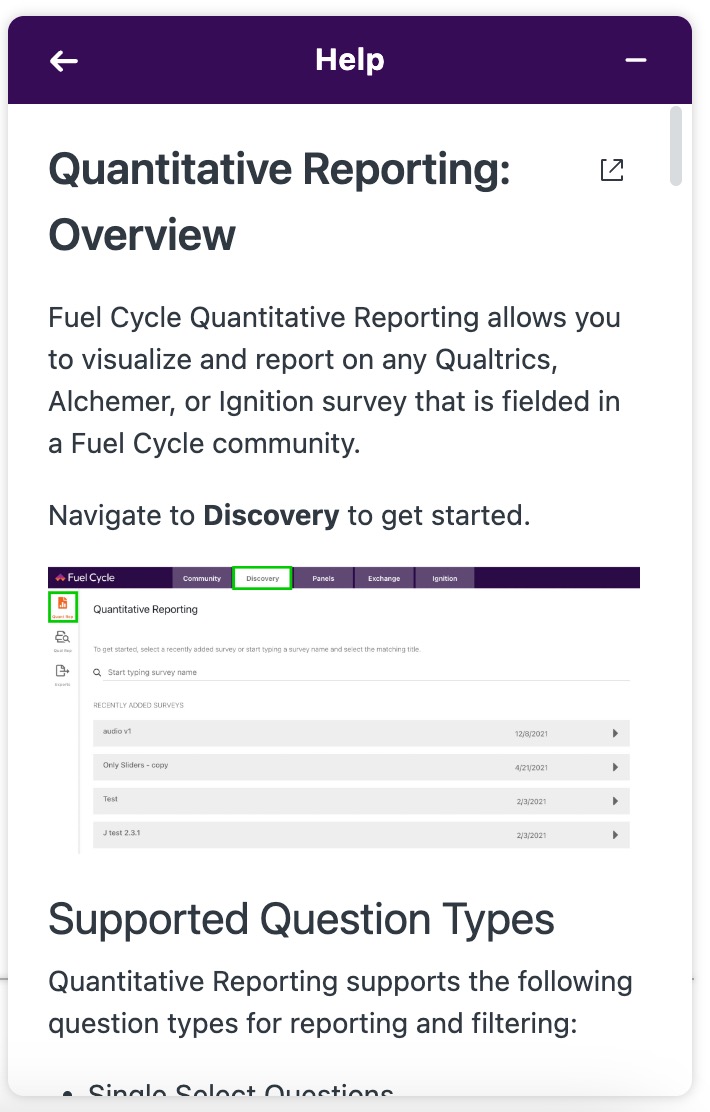 To submit a help desk request...
Click the purple Help button in the bottom right.
Click the Get in Touch button.
The Fuel Cycle bot asks "How do you want to get in touch?" Click Leave a Message.

Select the form that best describes your issue. When submitting a support request, it is important to include as much information as possible in order to ensure that your issue can be resolved quickly and efficiently.

Service Request—Any admin updates/adjustments to the community that cannot be done within the community itself. Requires access to the development side of the community ( super moderator requests, campaigns, feature enablement/disablement, domain assistance, survey providers, etc.). Please allow 1-2 business days for review.
Feature Request—Features the team would like to see created in the future. The product team receives these requests and assesses feasibility and priority.
Data Request—anything that cannot be pulled within the community and requires access to the development side of the community. Please allow 1-2 business days for review.
Potential Bug Found—If a feature is not functioning as expected, requires further investigation, and may potentially need to be sent to engineering to resolve the error.

The following fields are populated automatically based on who is logged in at the time:

Email Address
First Name
Company Name
Community Name
Fuel Cycle Customer ID
Fuel Cycle Community ID

Subject—Think of this as the request email title.
Description—Please provide clear details of the problem you are experiencing, such as any error messages or screenshots if applicable. Try to follow the format ' Who, What, Where' and think of the Help Desk person who will follow up with the 'Why'. Be sure to relay:

If relevant, please also include any other technical specifications related to your request.
Providing a timeline for when you first noticed an issue will help us better understand how long this has been occurring so we can prioritize our response accordingly. 
Provide examples (screenshots, screen recordings, files) and the steps you took to reproduce any problem. The more detail the Customer Solutions team receives, the better.
If users are experiencing an error, be sure to name the member, moderator, or client specifically.
Depending on the form type, there are other fields that will need to be filled out as well. Fuel Cycle employees may click here to see other form types available internally.