Table of Contents
Activity Interface Overview
Member Responses
Create the Activity in Fuel Cycle
Get ready to take your mobile app interactions to a whole new level with Insight Reels! These activities offer a full-screen experience filled with exciting and fun components that captivate and entertain your users.
Moderators have the option to create a video, add some keywords to your activity description, and share it with the members of your mobile-enabled community. This video is intended to elicit reactions from the community members.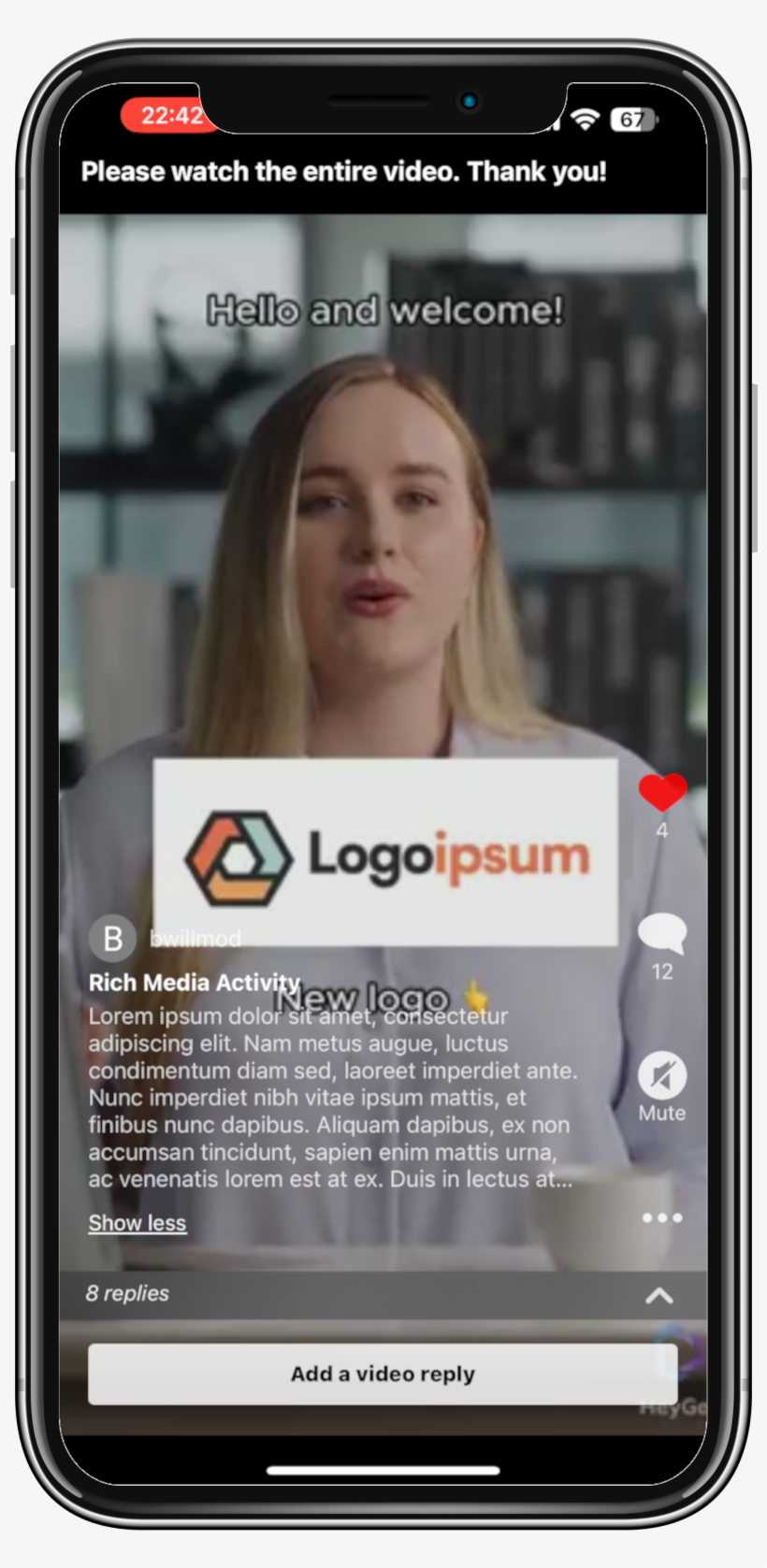 There are two ways to produce and design the video. The first option is to handle the entire process in-house, meaning that the moderators themselves will take care of creating and designing the video. The second option is to make use of existing text-to-video production sites that utilize AI avatars, such as Elai.io and HeyGen. These sites provide a platform where moderators can input text, which is then transformed into a video featuring AI avatars.
Activity Interface Overview
Here's a closer look at what Insight Reels brings to the table:
Insight Reels are triggered by a specific keyword or a simple checkbox during the activity creation process. This ensures that the activities are precisely what you want them to be.
Insight Reels are exclusively designed for mobile apps. They're tailored to provide an optimal experience on mobile devices, making them a perfect fit for your on-the-go audience.
Easily upload your media content, enhancing user engagement and interaction.
Insight Reels are packed with components that make user interactions a breeze:
Insight Reels Interface

Control Descriptions

Ⓐ Back Button

Ⓑ Like Button—Users can show their appreciation with a simple tap. The button changes color to red when the user clicks 🩶.

Ⓒ Like Count Label

Ⓓ Comments Button—Engage your audience with text-only comments.

Ⓔ Comment Count Label

Ⓕ Mute Button

Ⓖ Mute Button Label—Get clear feedback with "Mute" and "Unmute" labels.

Ⓗ Overflow Button—Depending on the context, you can report a video, delete it, or add a video reply.

Ⓘ Video Reply—Engage users by allowing them to upload video replies from their camera or library.

Ⓙ Video Reply View—This component provides a visually engaging horizontal scroll of video reply thumbnails, creating an interactive experience.

Ⓚ Activity Description Label—Share content with a two-line maximum display, including inline buttons for "more" and "show less".

Ⓛ Activity Title Label—Keep titles concise with a maximum of two lines.

Ⓜ Avatar + Label—Display the author's avatar and username.

Ⓝ Moderator Video—When tapped, this component provides an overlay with play/pause, skip forward, and skip back controls.
Member Responses
Upon launching an Insight Reel, the app loads and automatically plays the Moderator Video. The Video Reply View showcases thumbnails for easy selection. Tapping a thumbnail triggers a vertically paging list of Video Replies, which also autoplay upon appearance.
The member's Video Reply interface mimics the Moderator Video, with a few distinctions:
The Video Reply Button is hidden.
"Replying to @(moderator username)" is added above the Activity Title Label.
When multiple Video Replies exist, a Swipe Up Indicator appears at the bottom of the screen.
Create Insight Reels in Fuel Cycle
Create a new activity with the differences described below. 
On the

 

Activity Details

 

tab In the Activity Card Description, add the following:

rich-media-activity

 Do not enable the "Private Responses" setting enabled on the "Activity Details" step.

Only comments and uploads in comments (setting below) can be "Private Responses".

In the Select Platforms section, Only check the Mobile Apps platform option. This tells Fuel Cycle to present the activity only on mobile devices and to parse the activity in Insight Reels mode.
On the Landing Page tab, add the following Blocks:

Text Block—Add a description (no text formatting is needed because this mimics a social media posting).
File Block—Record and upload portrait videos; 9x16 aspect ratio as that has a preferred rendering that takes up the entire screen.

Make sure the following settings are checked:

☑ Show in Community
☑️ Enable Comments

Under Media Tab


Member video replies will not be under comments but under this tab.
Make sure to check Allow File Uploads for members.
Make sure to check In Album.

☑️ Moderator, ☑️ Client, and ☑️ Member.

Do not enable the "Private Responses" setting enabled on the "Activity Details" step. Only comments and uploads in comments (setting below) can be "Private Responses".