Push notifications keep you connected to community members. It's an immediate and effective way to reach many community audiences with your message, particularly Millennials. Push notifications can help community members stay up-to-date on new activities, announcements, and reward opportunities, driving engagement and participation with your community.
What are Push Notifications?
A push notification is a message that appears on a mobile device (even when the device is locked). Members receive these types of messages at any time. Members do not need to be actively using the app or device to receive a push notification.
Only members who have the app installed on their devices and have elected to enable push notifications will receive these messages. Members who have not allowed push notifications in advance will not receive this push campaign.
Furthermore, community members will receive automated push notifications through the mobile app for any activity-based actions on the following:
Replies or likes on their comments within an activity
Comments, likes, or ratings on their photo or video uploads
Comments, likes, or ratings on their member forum posts
Encouraging your members to download your community mobile app will ensure the broadest possible coverage with reaching your community with push campaigns.
Creating a Push Notification
First, navigate to the Communication Center and then Push Campaigns.
Click on the + button at the top of the page to create a new push campaign.
You will be prompted to three elements:
Push Campaign Name - an internal title for moderator reference
Message Title - this will act as the title/header for the push notification and can be up to 50 characters
Message - the actual content/text for the push notification that can be up to 110 characters
Next, select the link for the notification. This is the in-app destination when members click on the message to open the app. This can be the mobile app homepage, the rewards page, or a specific activity.
The activity option is helpful when announcing a new activity. This option will navigate members directly to a specific activity.
Before scheduling the push notification, you have the option of sending a test notification. This is useful for previewing how a text message on your own phone. Click on the Send Test button and a popup will appear. Enter the username of the moderator and/or client users and click the "+" to add them to the list of test recipients. Then click "Send Test" to finalize. Note: recipients must have the mobile app installed on their device and have enabled push notifications.
You may also save a draft of your push campaign at this stage by clicking on the Save draft button
Next, click on the Save and Continue button to proceed with Scheduling your push campaign.
On the Schedule page, select the recipients in the following categories:
User - Users defined by role or status
Groups - Specify a group. For example, this can be the same group you invited to an activity
User Distribution List - Upload a list of member user IDs
Activity - Specify an activity and associated member behavior like comment/uploading or completing a survey
Finally, you can schedule a time for your push campaign to run (your members will receive the push notification shortly thereafter). You may also save the campaign as a draft and return later to schedule it.
Metrics
On the Push Notifications page, you will see a list of the campaigns that have been created and their corresponding stats.
• Planned: Number of members who match the targeted segment (ex: total number of members in a given group)
• Queued: Number of the Planned users who have accepted Push Notifications in the app
• Sent: Number of push notifications actually sent from our platform
Member View of Push Notifications
Members that have push notifications enabled for your community app will see messages like the screenshot below. Clicking on the notification will link the member directly to the related activity or post.
Users will receive the below prompt when they install the app or if it's already installed, when they download the new updated version of the app.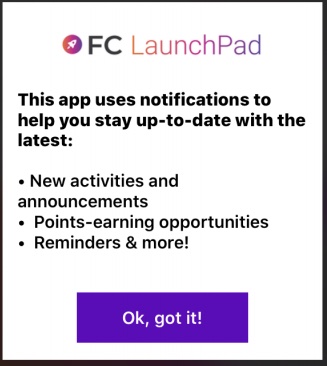 iPhone users will see the below dialog box, asking them if they wish to allow notifications from the app.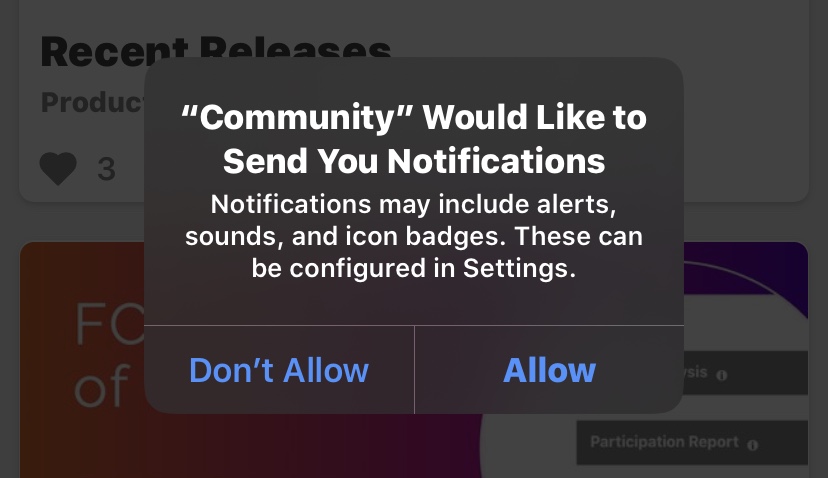 Please note: Android users will not see this second dialog box because the message is an Apple iOS-specific requirement. However, Android users may disable Push Notifications at any time. See below for details.
Disable or Enable Push Notifications
Members can control their push notification settings at any time to enable or disable them by type of push notification.
To access Push Notification settings in the mobile app, click on the profile icon to go to profile settings, then click the gear icon. At the bottom of the settings page, is a link to Update Settings for Push Notifications: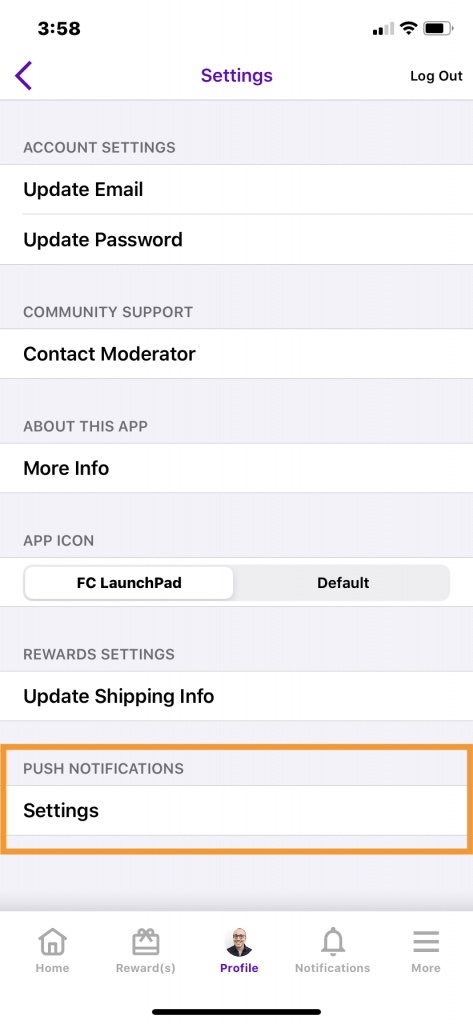 Once the user clicks on "Update Settings," they will see the following options: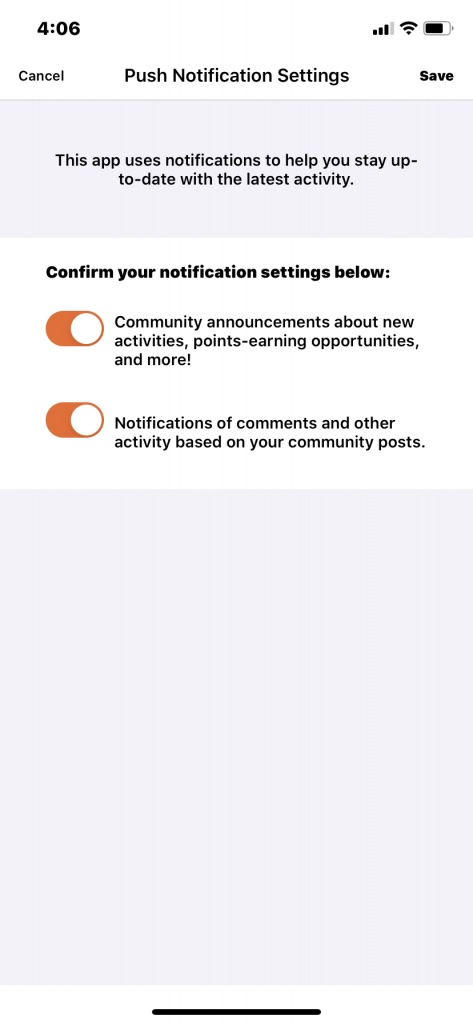 The member can disable/enable:
Push Campaigns: These are the moderator-created custom push campaigns created in the Communication Center
Activity-Based Notifications: These are the automated notifications when the member receives a reply to their post or upload.
Announcing Push Notifications
Here is some templatized language that can be used to announce the use of mobile push notifications to members of your community.
Important:

Please update the text and tailor it to your community. Confirm the download links for your app; international communities likely leverage different download links for each country.
We are excited to announce a great new feature for the [community name] on mobile: push notifications. These are messages that pop up on your mobile devices that can be received at any time – whether you are scrolling through your social media feed or if your phone is locked on standby in your pocket. You don't need to be actively using your device to receive one. They allow you to stay up-to-date on the newest surveys, announcements, reward opportunities, and more!
If you have the [community name] app downloaded, make sure you have the most current version of the app downloaded. We recommend regularly updating all mobile apps on your phone or setting apps to automatically update! Don't have the [community] mobile app? No worries! The links will still open in your preferred mobile browser as well.
You will be prompted about Push Notifications when you open the mobile app. Be sure to click "Allow" so that they will be enabled. If you previously did not allow them, if you accidentally hit "Don't Allow", or if you later decide you no longer want to receive push notifications then you can always change the app's settings in your phone's Notifications and Alerts area or update your preferences in the Communication tab of your Account Settings.
Don't have the app? Download it below:


If you're currently on a desktop or laptop computer, aim your smartphone camera
at the QR code below to go to the download page specific to your device.