Engage your Fuel Cycle community with surveys and analyze the results with Momentive (previously Survey Monkey).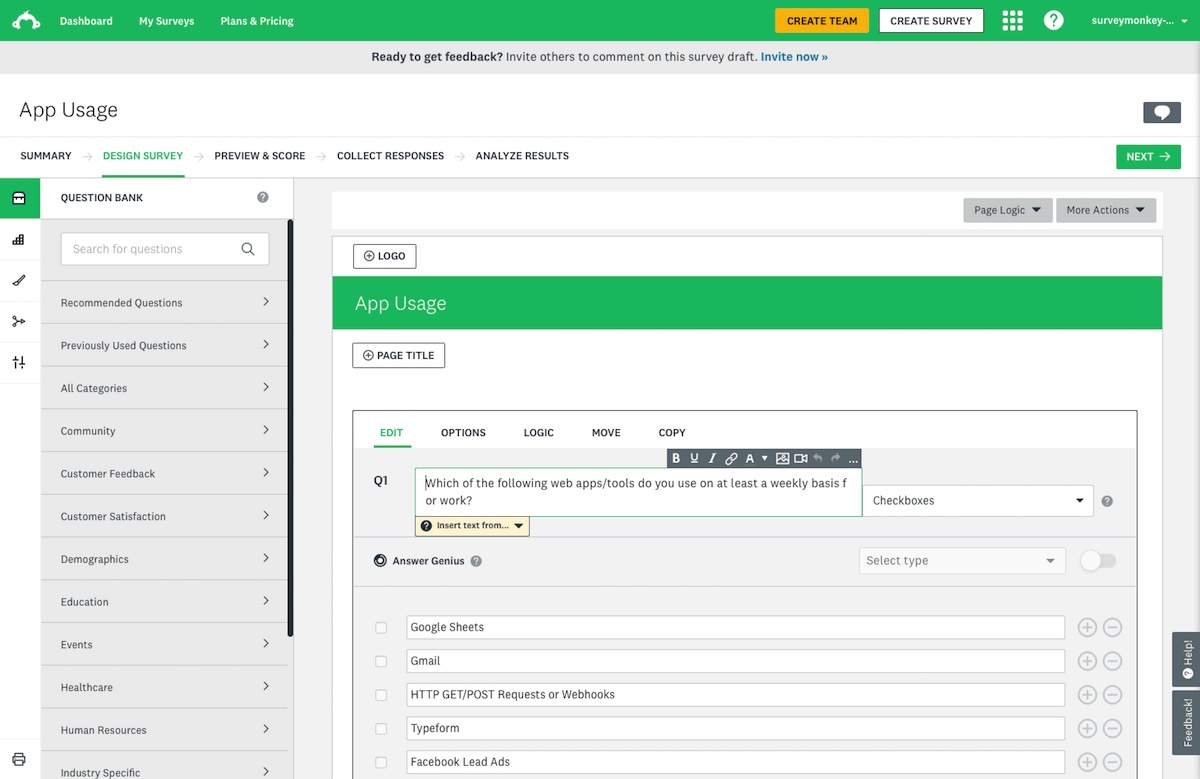 Overview
With the addition of SurveyMonkey (powered by momentive.ai), Fuel Cycle continues its promise of giving you the option to use the survey provider you prefer. In a few steps, you can link your existing SurveyMonkey account at no additional charge. Use the platform you are most comfortable with to create surveys without any change to the member participant experience.
Features
Seamless Member Experience—The community member experience is the same regardless of the survey provider you choose to use. Members will start a survey by clicking a button in the community and be redirected back once they finish. Recruitment surveys are also supported including termed and over quota logic.
P2 Engine—Use SurveyMonkey survey data in the P2 Engine to power segmentation and exports inside Fuel Cycle. If you use multiple survey providers, you can merge data from different providers giving you a one, true source of profile data for your members.
FC Analytics—Survey data from SurveyMonkey can be used in FC Analytics for powerful data analysis and visualization. Bring together multiple data sources including surveys, P2 profile points and more with SurveyMonkey and FC Analytics.
How Does It Work?
Set up a link between your SurveyMonkey account and the Fuel Cycle community. Once the accounts are linked, you can import a SurveyMonkey survey into Fuel Cycle. Surveys can be used for recruitment, activities, and live chats.
Recruitment Screener
Use SurveyMonkey logic to create paths for qualified, disqualified, and over quota. Participants who successfully pass the screener will be redirected to the Sign-up page for the community. Participants who are termed out due to disqualifying or over quota logic will be redirected to appropriate messaging for each term type that is set in Fuel Cycle.
Recruitment survey data is available in Fuel Cycle Member Reports so you can easily see total Qualified, Disqualified, and Over Quota counts per screener.
Activity Surveys
The most common use of surveys is in community activities. Once imported into Fuel Cycle, you can attach surveys to any activity. The member will click to take the survey and be redirected back into the activity page once completed. It's a completely seamless experience for members.
PLEASE NOTE: Due to technical constraints, we cannot send P2 Profile Points to SurveyMonkey. At this time, only the following details will be passed through to SurveyMonkey per member:
Username
Gender
Age
Recruitment
Role
Test Member status (allows you to filter out any test member submissions)
To analyze SurveyMonkey data with Fuel Cycle's P2 Engine data, we recommend using FC Analytics. FC Analytics gives you full control to create comprehensive crosstabs and data visualization using all of the community data you have from P2 Profile Points, survey responses and more.
Live Chat Surveys
You can also embed a survey into a Live Chat activity. We recommend these surveys be one-question for the best live chat experience. Members will take the poll and submit in the live chat while also being able to continue the text-based conversation in the chat window.
SurveyMonkey Configuration Steps
You need to have a Fuel Cycle account to be able to access the platform and use SurveyMonkey on the platform. Fuel Cycle's integration is only available with a SurveyMonkey Enterprise level account.
Connect your Survey Monkey account
Log in to your Fuel Cycle account.
Click the Exchange tab on the dashboard.
On the SurveyMonkey application card, click Configure.

Connect your existing Survey Monkey Account with the Fuel Cycle platform.

Authorize Fuel Cycle to allow a connection to your Survey Account with the needed permissions.
After redirecting to the SurveyMonkey login page, log in to your SurveyMonkey account.
After your successful login, you will be notified that you successfully connected your Survey Monkey account.
After a successful connection, you'll see a button on the Fuel Cycle dashboard to Open SurveyMonkey when you are logged into Fuel Cycle.
If you decide to disconnect your account from the Fuel Cycle platform...
Login to your Fuel Cycle account.
Click the Exchange tab on the dashboard.
On the SurveyMonkey application card, click Configure.
Click the Disconnect button.
Confirm that you want to disconnect your account
You will get confirmation that your SurveyMonkey account is no longer connected.