FCX Frequently Asked Questions Follow
What is Fuel Cycle Exchange (FCX)?
Fuel Cycle Exchange (or "FCX") is an integrated insights marketplace that compliments your Fuel Cycle platform by offering you the tools you need for research solutions or business objectives.
How do I learn more about FCX products?
After logging into the platform, you'll see a tab at the top of the screen labeled Exchange.

You'll see all available FCX partners — click to view more details about each.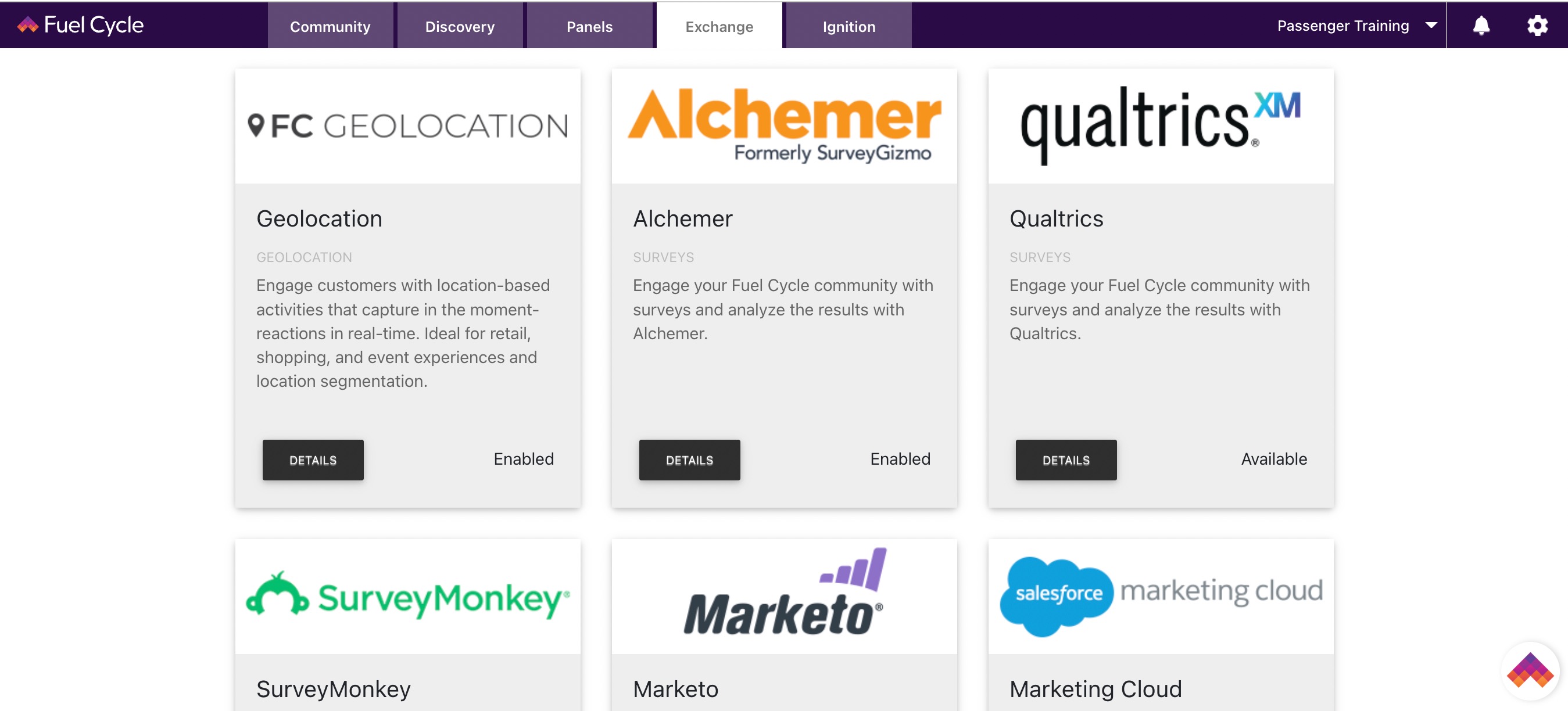 After reading about any product or service, click the Request More Info button if you would like more information. This will not enable the service but will notify your Fuel Cycle representative, who will reach out to you within 48 business hours to discuss the service further and to schedule a demo.
We take a consultative approach to recommending FCX products and solutions. Please contact your Fuel Cycle representative to get a demo of any FCX product!
What are the benefits of FCX?
Customized Research Suite
FCX creates custom research solutions for every industry, company, and role. Whether you're responsible for product development, shopper insights, customer experience, or marketing — there's a solution for your organization on FCX.
Leading Insights Marketplace
We know researchers don't have the time or luxury to compare countless different research tools. That's why we made it easy to adopt new methods. All FCX partners go through a rigorous vetting process to ensure only the leading insights solutions make it into the marketplace.
Keeping Your Data Connected
We're breaking down silos in a big way. Fuel Cycle is the first market research platform to combine partner and community data into one unified data layer. It's time to put more of your insights to work for your business.
How does an integrated FCX study work?
Our fully integrated partners make it easy for you to rapidly field studies in Fuel Cycle. This enables you to use leading insight tools directly in your Community.
Seamless Participation
Community members are automatically directed to the study to participate and then redirected back to the Fuel Cycle activity upon completion. This provides one continuous and uninterrupted member experience.
Participation Tracking
Member participation with partner studies is automatically tracked by Fuel Cycle. This makes it easy to reward members for participation in communities that leverage incentives.
Profile Points
Integrations include Fuel Cycle profile points to help with analysis and segmentation.
Integrated Management
You can view all of your studies directly within Fuel Cycle. Easily navigate directly to the partner website from Fuel Cycle to edit a study or view any associated reporting results and analysis. These links appear on the FCX Studies page under the Surveys section.
Where do I manage FCX studies within Fuel Cycle?
Studies can be managed directly in the Fuel Cycle platform. When you create a new FCX study in the partner's platform, it's automatically added to Fuel Cycle in the section called FCX Studies that appears in Surveys.
This makes it easy to see the available partner studies. You can easily navigate directly to the partner website from Fuel Cycle to Edit a study or view the Report results and analysis by using the links provided on the FCX Studies page.

How do I launch an FCX study?
Adding a partner study to a Fuel Cycle activity is simple and can be readily attached when creating a Fuel Cycle activity. Instructions are available in the Activity Creation section. Please note: not all FCX studies can be launched with the use of a Fuel Cycle activity.