Meta4 Insight by Protobrand taps into consumers' deep-seated feelings and underlying motivations, resulting in emotionally resonant brand relationships. Discover compelling insights in concept testing, brand affect, customer experience, and ad testing.
Learn more about Protobrand on the Fuel Cycle Exchange.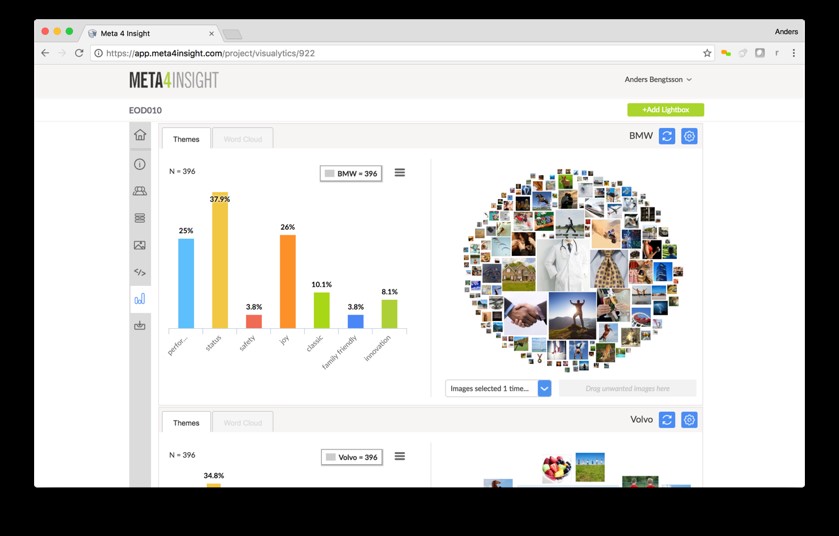 Enabling the Integration
You may request the integration directly within Fuel Cycle. The request process follows the same steps for all Fuel Cycle partners.
Visit the Fuel Cycle Exchange listing with your community, select Meta4 Insight, and click on the Request More Info button appearing at the bottom of your screen. A Fuel Cycle representative will be in contact within 48 hours.
Your account manager will update you once Meta4 Insight is enabled in your community. You'll also receive a Meta4 Insight website account to log in so that you can create studies and view results.
Integration Features
Image library: Meta4 Insight features a validated image library designed to enable respondents to articulate the complete range of metaphors and emotions.
Text or video responses: Respondents answer questions by selecting images, thereby bypassing the limitations of language and enabling activation of System 1 responses. For each image selected, the respondent provides an elaboration via text or through a self-recorded video.
Text analytics: Through AI-enabled text analytics, you'll get a solid quantification of salient themes that are naturally occurring in the qualitative data set.
Image clouds: Understand your brand's visual universe by exploring the semiotics of image clouds.
Visualytics dashboard: Meta4 Insight can quickly deliver System 1 insights. Use the Visualytics dashboard to explore your results in real time as responses trickle in.
Additional Information
Service and Usage
The services agreement will define usage limits, whether it's a single project or a bundle of projects.