Gamification Reward Grouping Follow
Gamification reward grouping is the ability of moderators to control which member groups can access and redeem a community reward.
With gamification reward grouping:
Moderators can indicate which static or dynamic groups can redeem a specific reward.

This applies to both internal and Giftbit rewards.

Moderators can select from all static and dynamic groups available in a community.

Moderators can view which groups can redeem a reward from the gamification rewards listing page.

A column has been added that lists which member groups can view and redeem a given reward.

Moderators can filter the gamification rewards listing page by a specific group.

There is now a filter option on the rewards page that allows you to filter rewards based on a single static/dynamic group.

Members are only able to see the rewards that they are eligible to redeem wherever they access the community (Desktop browser, mobile browser, or Fuel Cycle mobile app).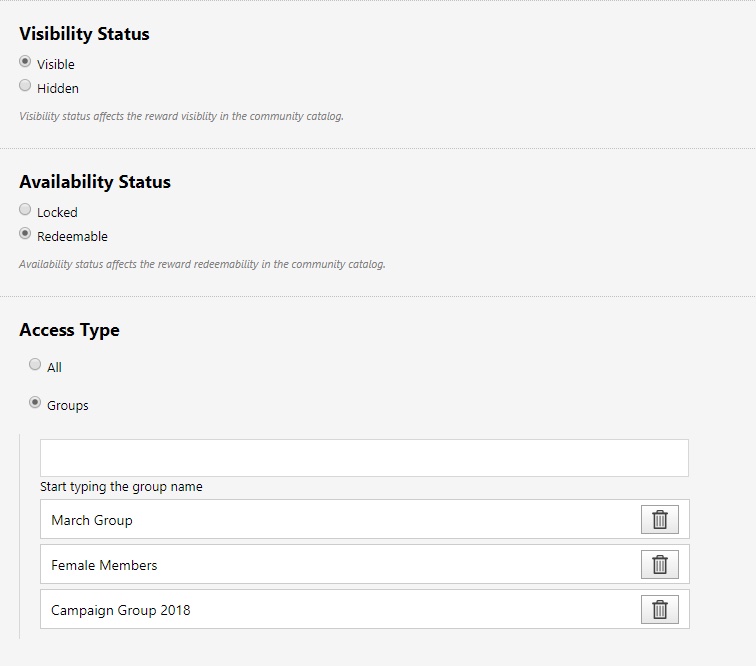 Reward Statuses:
Visibility Status—This is a required setting that determines whether or not a reward is visible in the community catalog. The "hidden" visibility status allows you to save a draft of the reward before publishing. It also allows for rewards to be hidden from members after it has been published for a set amount of time.
Availability Status—This setting indicates whether or not a reward can be redeemed. If the status is set to "Locked", members can view the reward, but will not be able to use their points to redeem that reward.