Fuel Cycle is redefining mobile research. Designed specifically for the smartphone era, our industry-leading mobile app offers researchers the most engaging way to reach their audience and capture in-the-moment insights.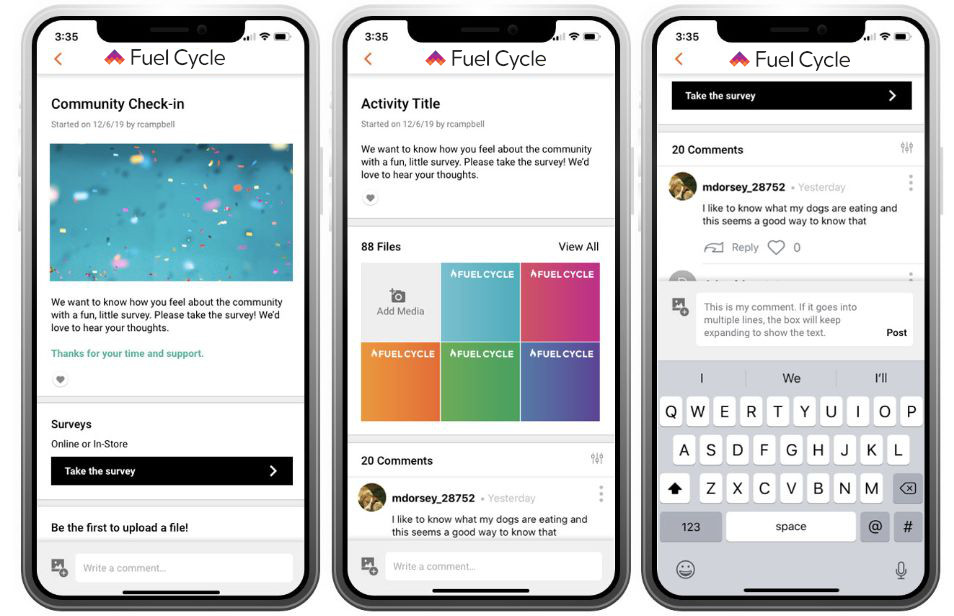 Enables Additional Research Functionality
Take advantage of location-based activities and video interviews to engage your community as your customers visit targeted locations.
Seamless Multi-Channel Experience
Activities and research projects designed in your Fuel Cycle community are seamlessly made available on the mobile app for your community members on the go. Members can access and participate in community activities no matter where they are.
Rewards and Instant Gratification
Use rewards to incentivize your members. Gamify your research with points and enable seamless reward redemptions in your branded app.
Push Notifications
For members who have downloaded the mobile app and opted-in to mobile notifications, you can send push notifications directly to members alerting them of new activity as an additional way to engage and connect with your members.
Unlock Additional Research Functionality
Geolocation
Capturing in-the-moment feedback and location-based insights is possible with geolocation and the Fuel Cycle mobile app. By delivering research activities based on members' physical locations, we can effectively eliminate recall bias and gather insights at the moment when products and services are being experienced, providing more accurate, relevant, and detailed results.
Mobile Ethnographies
Mobile devices have all the necessary tools for capturing contextual insights. Engage your community members as they are waiting in line or lounging at home and invite them to share photos and videos in key moments. If you're looking to understand the context behind purchase decisions, product usage, user journeys, and customer experiences over time, the Fuel Cycle mobile app will be there to support your ethnographic studies.
Push Notifications
Quick messages and call-to-actions can be sent to members in a familiar format providing an effortless respondent experience. In combination with email campaigns, push notifications to maximize your outreach and fielding efforts and help drive increased participation rates from your community.
The Fuel Cycle mobile app is a proven solution that has helped supplement the research efforts of clients across a variety of different industries: