The Fuel Cycle mobile app is designed to reach community members on the go. Members can interact with all the activities available on the community website, plus more. Leverage your community mobile app to engage members with check-ins (geolocation), mobile ethnographies, and other types of research activities unique to mobile—all conveniently from the member's mobile device.
Why is mobile a must-have for your research program? Read more about Mobile Benefits.
The following examples are screenshots from a demo community. The actual branding and colors of your mobile app will automatically adopt the same customization as your community.
Login
Magic Link—Members can sign in to the app by clicking on a link that is emailed to them. Upon clicking the link, they will be automatically redirected to their community mobile app.

Sign In Manually—Members must enter their email address and password to access the community mobile app.
Members must complete their profile information before they gain access to the community. Make sure to fill out the required profile fields. You can scroll down to the bottom to save this information.
Home
Members will see the home screen upon logging in. They can navigate activities by swiping up and down. New, featured activities appear at the top to encourage your participation in research projects.
The buttons at the bottom of the page are...
Rewards
Rewards are incentives for participating in community activities. You build up points for participating. Then, you can redeem points for rewards. The more you participate, the more points you build up for redeemable items.
Members can participate in activities on their mobile devices, including surveys, studies, and check-ins (geolocation) that provide in-the-moment feedback at specific physical locations.
Profile
You can always edit your profile:
Tap once on the Profile button at the bottom middle that contains your first initial.
Tap once on Edit Profile.
Make any changes you need to make.
Tap once on Save in the top right corner.
Notifications
A push notification is a message that appears on a mobile device (even when the device is locked). Members receive these types of messages at any time. Members do not need to be actively using the app or device to receive a push notification.
Menu
Announcements
Your moderator may send announcements to your community as a way of communicating with community members, such as welcome messages or new surveys. Close these announcements by clicking the X button in the top right corner of the announcement window.
My Activity
Members can participate in activities on their mobile devices, including surveys, studies, and check-ins (geolocation) that provide in-the-moment feedback at specific physical locations.
Media Sharing
Upload images, videos, and other media types directly from members' phones to share with the community.
Collage
Create a collage for a fun and intuitive way to upload multiple photos.
Choose a layout for your multiple images.

Choose multiple images to upload.

Adjust your uploads:

Replace images

Reflect or mirror your images

Add Borders

Rotate your images

Publish your images.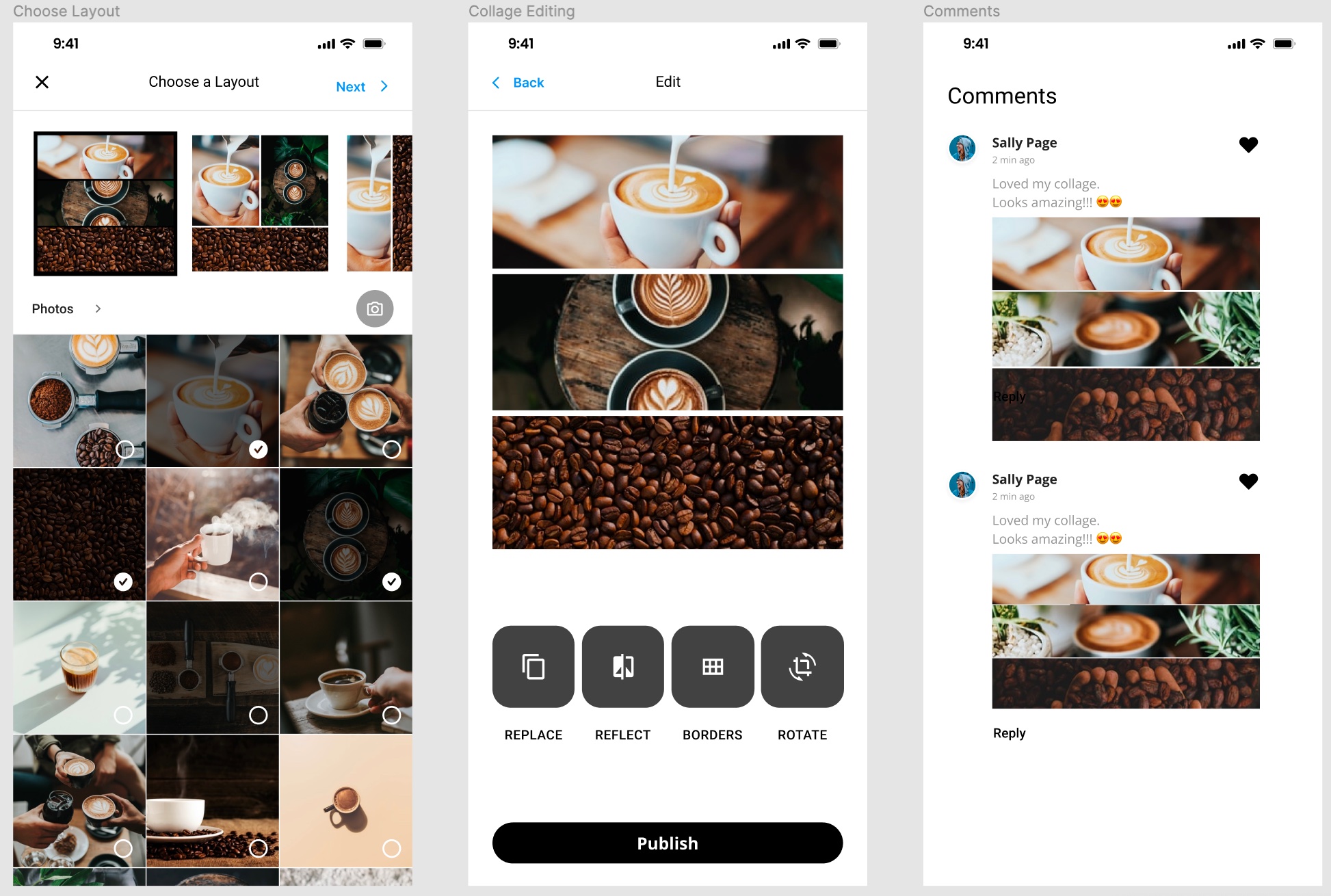 Delta Testing
This activity is a way for community members to launch projects when testing hardware and software, reporting bugs, and requesting new features. You can potentially get rewarded when you participate in these activities.
Categories and Topics
Categories are most frequently used to organize community activities around functional topics such as Surveys, Discussions, Live Chats, or Albums.
Topics are used to organize community activities around a topical area. You could list TV shows, vehicles, customer experience, or many more topics based on your community needs.
Comments and Discussions
Join engaging community discussions with ease — simply comment within the mobile app.
Surveys
Discover the power of your opinion and shape the future by participating in surveys through the user-friendly Fuel Cycle mobile app.