Activity Moderation Overview Follow
The Mod Feed section permits moderators to review and manage the various activities occurring across their Fuel Cycle communities. Moderators can view and manage the following activities content:
Content Submitted - new activities/attachments that are created and published to the community by moderators, and member-submitted posts to member forums.
Surveys Completed - surveys that are being completed by community members.
Files Uploaded - files being uploaded to an activity such as an album.
Comments - community members submitting comments to activities
Likes/Ratings - community members liking or rating content/comments.
Following - community members following activities to receive future updates.
Flags - comments or content that has been flagged as inappropriate or spam by moderators or community members.
Moderators can filter activities based on community, date range, user types, activity types, and individual users. Additionally, activities that are occurring throughout the Fuel Cycle community are organized into two main tabs: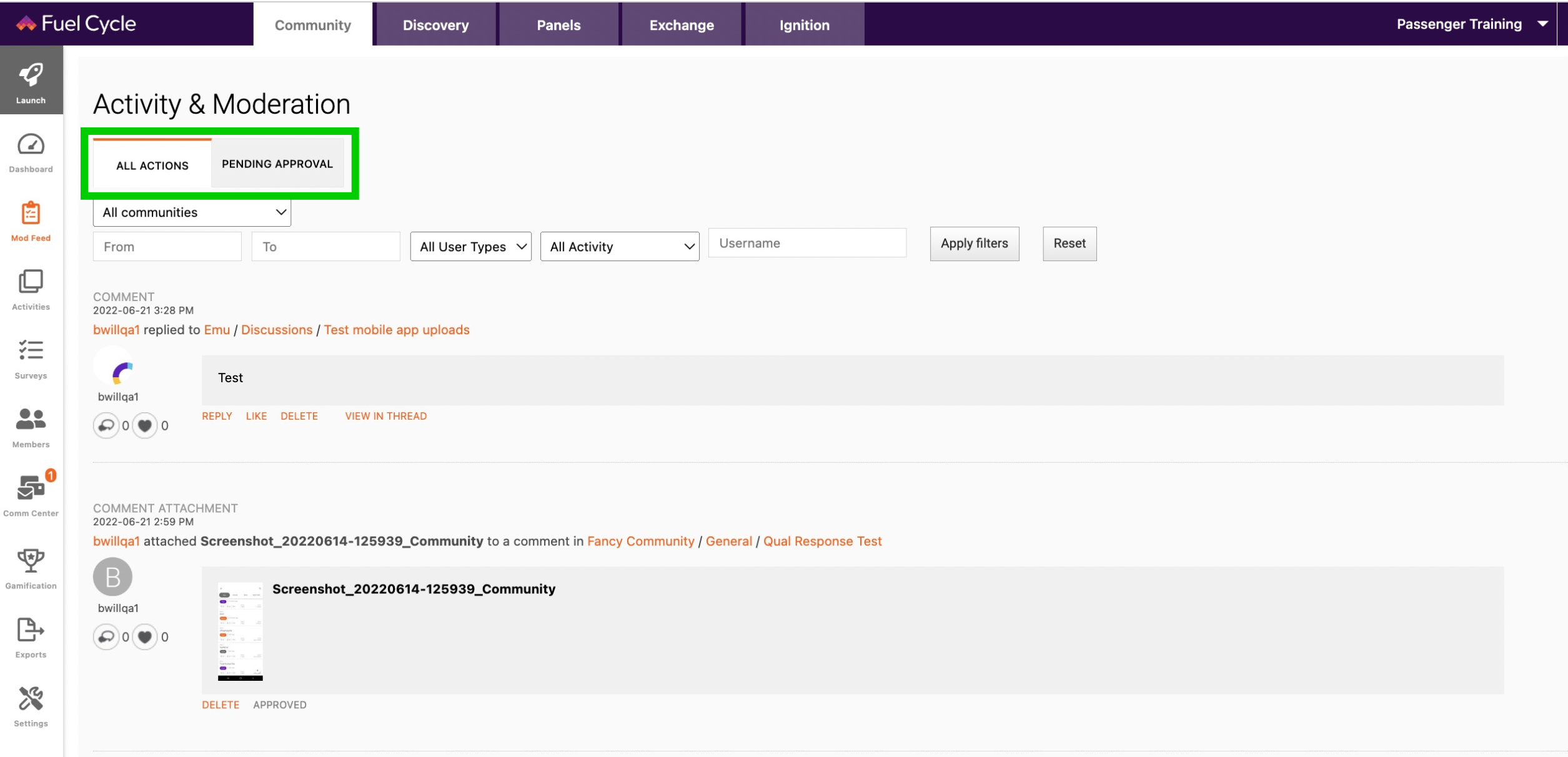 All Actions - this section encompasses all general activity that is occurring throughout the Fuel Cycle community that needs to be moderated. All activities described above will show up in this section for moderators to review.
Pending Approval - this section will capture any comments/content that must be approved by moderators before they are made visible and published to the community. Enable the approval process for comments and files by making approval required within the Activity Flow in Step #1 (Activity Details) and Step #3 (Attach Media), respectively.
Moderators can actively manage community activity using the following functionality directly within the "Activities & Moderation" section:
Reply—Add a direct reply to a member's comments/content
Like—Add a quick "Like" to a member's comments/content
Delete—Delete members' comments/content
Deny Points (Low-Quality)—If Gamification is enabled for the associated activity, use this functionality to deny points for a post that does not meet your quality criteria.


You will have up to 24 hours to deny points for a low-quality post.

View in Thread—Review the comment/content in the context of the original thread