Let Customer Empathy Drive Your Business Decisions
Understand your customers' perspectives with video-based feedback from UserTesting. Seamlessly launch UserTesting tests to Fuel Cycle community members to see and hear the experiences of real people.
Learn more about UserTesting on the Fuel Cycle Exchange.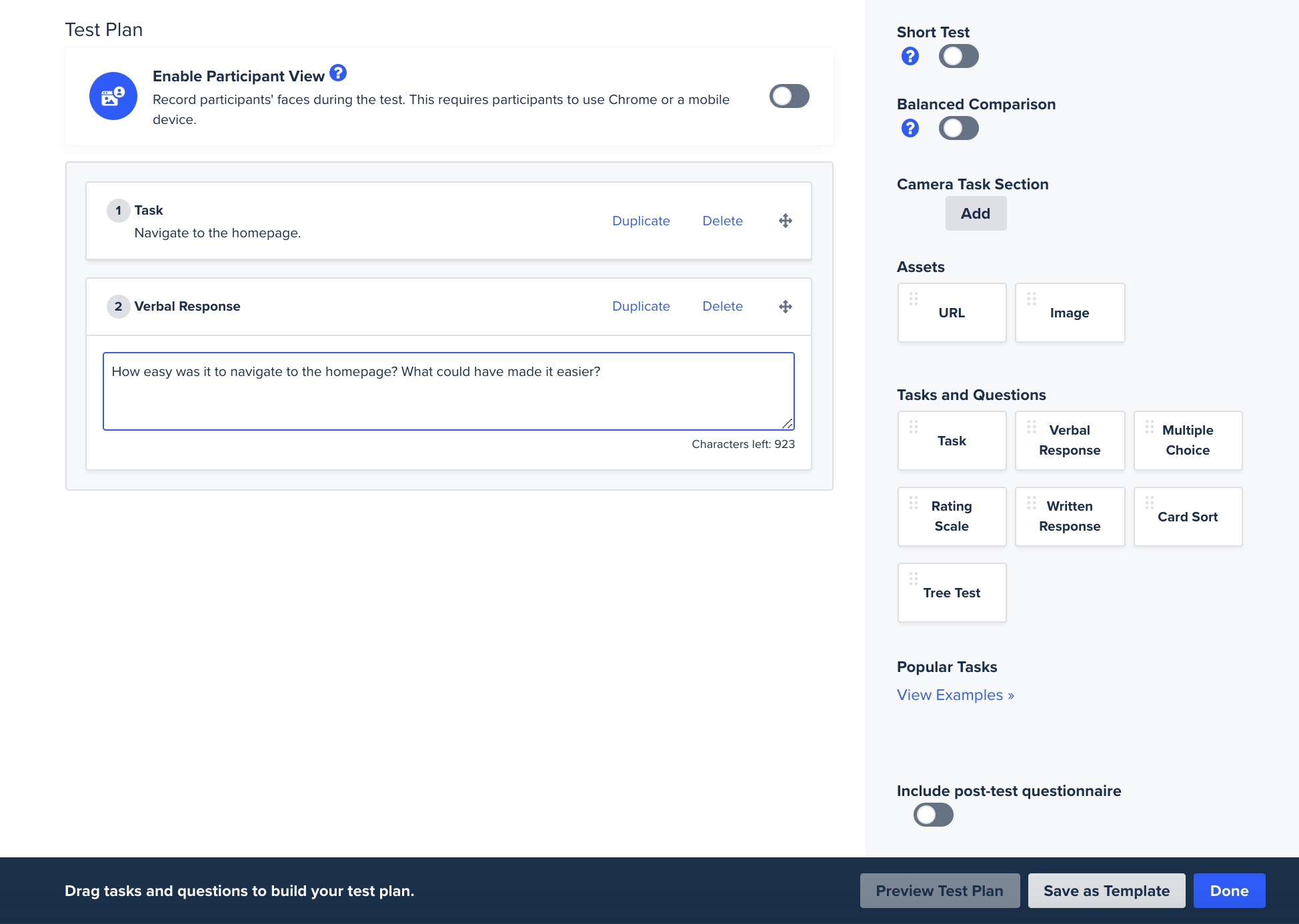 Overview
The UserTesting Human Insight Platform empowers all teams with on-demand feedback from their target audiences, across any experience. Conduct unmoderated testing via self-guided video recordings, leverage advanced analytics to identify key moments of insight, and embed customer empathy in more business decisions.
Connect your UserTesting and Fuel Cycle accounts to connect your UserTesting and Fuel Cycle accounts to add tests to your Fuel Cycle dashboard, enabling a frictionless way to solicit feedback from your customers. After a quick integration setup, you'll be able to automatically send UserTesting tests to your Fuel Cycle account. See the "How it Works" section for setup information.
Key Features
Ask any question—Create a test plan to ask any question or request people to perform desired tasks leveraging our easy-to-use test builder, or choose from over 50 professionally designed, customizable test templates.
Target anyone—Target your Fuel Cycle community members, connect with the UserTesting Contributor Network, or get feedback from your own audiences outside of UserTesting or Fuel Cycle.
Engage and empathize—Engage with audiences via self-guided video recordings, and get video results within hours so you watch and listen as your community members complete tasks and answer questions.
Discover and analyze—Discover insights more quickly with transcripts and ML-powered features such as sentiment analysis.
Share insights—Create highlight reels and clips, and download, export, or share results in your favorite tools like Slack, JIRA, and Trello to scale customer feedback across the org.
Security and scalability—The UserTesting Human Insight Platform is SOC 2 Type II certified and GDPR and CCPA compliant, and role-based permissions, workspace privacy settings, and approval flows ensure all teams can create tests aligned to best practices.
Use Cases
Needs discovery—Understand what your customers are looking for and what challenges they face prior to designing a solution.
Customer journey mapping—Get feedback from audiences on everything from initial perceptions to final decisions to create a holistic view of your customers' journeys.
Prototyping—Discover early challenges or confusion on sketches, prototypes, or concepts and alleviate problems early in the design process.
Information architecture—Ensure your website or app is organized with optimal workflows that facilitate conversions.
Message and concept testing—Make sure your messages and visual concepts resonate with your target audiences.
Real-world testing—Observe audiences navigating real-world experiences to better understand how they make decisions.
How it Works
Connect your Fuel Cycle and UserTesting accounts (this only needs to be done once):
Log in to Fuel Cycle and navigate to the FCX Marketplace.
Within the FCX Marketplace, select UserTesting to request an API key and token to be used with UserTesting.
Once you've received an email from Fuel Cycle with the API key and token, copy both and log in to UserTesting.
Navigate to the integrations page in UserTesting, select Fuel Cycle, and paste the API key and token into the Fuel Cycle field to connect the two accounts.
Read more about setting up the integration with UserTesting in their knowledge base.